Building a custom home can be a daunting undertaking for some people – especially if your interests are aligned with environmentally friendly practices. Often the questions asked before building your custom home can be, "Can building a custom home be environmentally friendly? If I want to be environmentally friendly but still want to build a custom home, what do I do? How do I incorporate green building techniques or solutions into my custom home?"
There are several different ways to make sure your house is environmentally friendly, but the best first step is making sure that you are building your custom home that is energy efficient. At Buena Vista Builders in Durango, Colorado, we take pride in the fact that we help you maintain your custom home building goals while still keeping in line with energy efficiency.
Below you will find some energy efficient elements that you can incorporate into your custom built home:
Passive Solar – Considering your custom home will be drafted to your specifications on your property, there are several ways to make the most out of passive solar.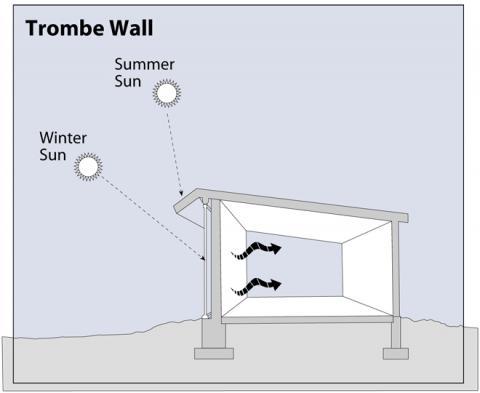 Site location and how your house is oriented on your property can help determine how much passive solar you receive. Are there mountains blocking your access to full sunlight? Are there other houses that could affect your ability to achieve passive solar? The longest side of your house should be facing true south – you can deviate up to 15º away from true south without losing significant energy. A skilled builder can help you determine where your house needs to be located in order to get the most out of your accessible solar energy.
Landscaping around your 'solar window' (the area of your house that was pre-determined to have passive solar) should consist of lower vegetation to prevent overgrowth from blocking sunlight. Even deciduous trees can prevent you getting maximum solar energy. However, having trees (especially deciduous) on the west side of your house could help decrease heating with their bare branches allowing for a little more sunlight during the fall, spring and winter months, and protection from the summer sun when their leaves are at their fullest.
Room location is also another way to get the most benefit out of your passive solar-friendly custom home. Part of being energy efficient is making sure that homes have rooms located in areas that are based on usage. Placing rooms that have the most usage (kitchens, living rooms) in areas in the passive solar areas will help keep heating costs down.
Insulation – By properly insulating your house and using the correct type and R-value of insulation recommended by your custom homebuilder can greatly reduce the energy consumed in the long run.
R-value ratings can indicate how much insulation (and which types) you should use. Making sure that your insulation is rated highly on the R-value scale is one of many ways to determine how much insulation is needed. The more insulation you install will help to increase your R-value rating and will create more heat resistance and use less energy over time. Working with qualified insulation installation experts is just one of the ways that Buena Vista Builders ensures your home is as energy efficient as possible.
The type of insulation is also a huge indicator of energy savings. There are several variations of insulation that you can install – depending on the level of energy efficiency you are trying to achieve. Some environmentally conscious insulation materials are mineral wool insulation, cellulose insulation, plastic fiber insulation and natural fiber insulation. Mineral wool insulation contains an average of 75% recycled content, less prone to air convection and is comparable to high-density fiberglass batts. Cellulose insulation material is made from roughly 85% recycled paper products, is treated with borate to ensure fire and insect resiliency, and requires no moisture barrier. Plastic fiber insulation is made from recycled milk bottles and formed into batt insulation (not unlike fiberglass), harder to handle and sometimes even harder to purchase since it is not readily available in all areas. Natural fiber insulation can be made of cotton (which is a blend of 85% recycled cotton and 15% plastic, and treated with borate), sheep's wool (treated with borate but susceptible to constant dry/wet damage), straw bale (popular 150 years ago, fused into boards without adhesives which also double as sound-proofing), or hemp.
Knowing where to put your insulation to get the most out of your energy savings is just another way your custom homebuilder can bring their expertise to your project. Installing insulation in specific, strategic areas of your house will prevent long-term energy savings especially if you consider moisture control and air-leakage as factors in wasted energy. Also, if you live in a place where termites and other vermin are popular, this could affect what kinds of insulation you use and where you have it installed. Attics, ducts, exterior walls, and foundations are all areas in your home that you should consider carefully before insulating.
Appliances/Lighting –Home appliances account for roughly 20% of your energy bills, so when you are installing appliances there are a few things that can help to make your house as energy efficient as possible.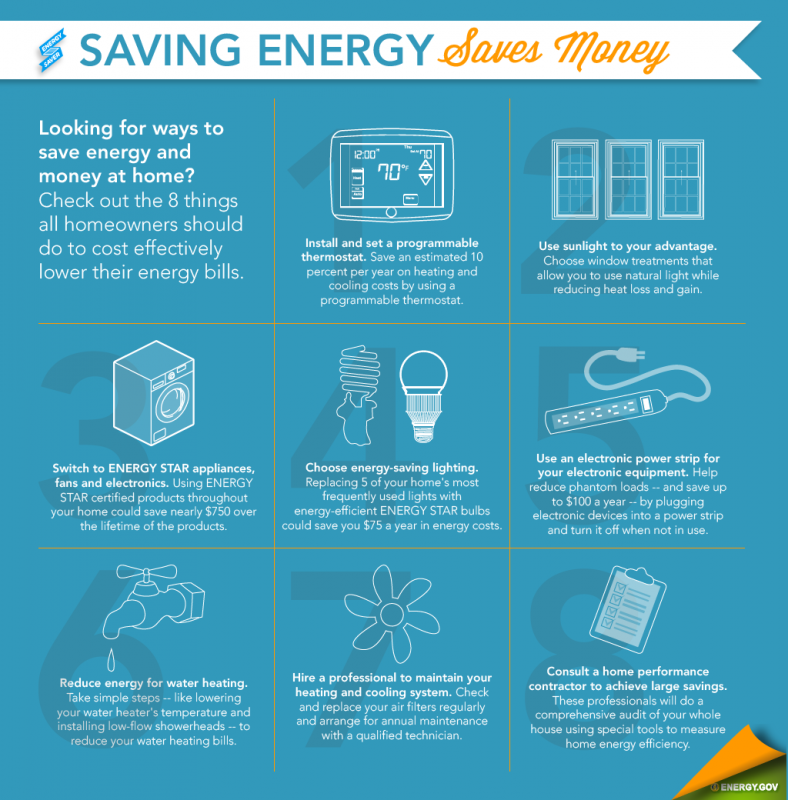 Energy Star appliances – Picking out all new appliances for your custom home is, quite possibly, one of the fun parts – you know you're close to being finished when these are installed. Better yet, knowing that you can have an impact on the environment when you select these items feels even better. When your home is finished, installing Energy Star rated appliances allows you to continue with environmentally conscious approaches – long after your custom home has been built. Energy star rated appliances use 10-15% less energy and water than other models. They can also save you more money on utilities down the road.
Installing "smart" appliances is a great way to reduce your consumption of energy. Smart appliances shift your energy use to off-hours when you use them less. As stated in Energy.gov's website, "Your air conditioner may run slightly less often. Or your refrigerator might delay its defrosting cycle until the middle of the night. If your utility charges lower rates for electricity at night, this could help you save on your utility bill."
Choosing lighting that can be adjusted for usage (like dimmer switches) or occupancy can help use less energy. Choosing lighting fixtures that meet Energy Star ratings, can also help you save in cost. Making sure that you choose motion-sensor outdoor lighting can also help make your home energy efficient, especially if you use lower wattage in these fixtures.
Part of what we love doing at Buena Vista Builders is making sure that you are satisfied with the level of professionalism involved in creating your custom home. Energy efficient homes are an important part of being an environmentally conscious home building company.