Marrying beauty and safety is no easy task. Rarely in our world are things that are intended for safety also appealing to look at. Luckily, trusses are both extremely safe in structure while also being able to bring a bold aesthetic to your custom home. Premanufactured trusses are often able to be installed in one day, which is a significant time gain over other traditional methods. This additional speed and convenience that comes with utilizing premanufactured trusses give you a winning combination for your custom build.
Recently having become very popular, trusses are steadily overcoming traditional framing, rafters, and joist in new home builds. Typically, trusses are wooden structures that are formed to create a series of triangles that will distribute the weight of your roof outwards to the walls, though they can incorporate steel and other structural shapes. Take advantage of the strong lines that trusses offer by leaving them exposed to create a powerful design element. The use of roof trusses will also allow for a more open design within your home as they are able to span greater distances than traditional framing, therefore, requiring fewer load bearing walls inside.
Many variations of roof truss designs exist, from straight-forward, simple designs to those that are more complex and ornate; all have their advantages and disadvantages. Here are a few styles to give you an idea of the wide array of truss designs available.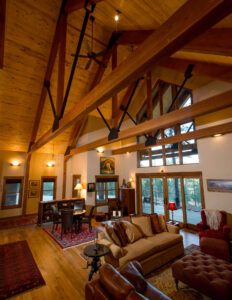 Simple Trusses
The simplest design, the King Post Truss, consists of one vertical center post with a triangle off each side. Great for smaller homes, as its reach is more limited than other trusses, the clean design of this truss provides an open, elegant feel. Adding two additional beams gives you the Queen Post Truss with slightly more form while maintaining that simple elegance. The Modified Queen Post Truss, Howe Truss, and Double Howe Truss are all based off the original center post design of the King Post Truss with their own unique arrangements of beams of triangles. The Howe Truss is particularly strong and able to span a great distance, anywhere from 6 – 30 meters.
The Fink Truss the Double Fink Truss and Fan Truss maintain the clean lines that the King Post Truss and its variants offer while abandoning the center post design which then lends an open, airy feel to the design.
Arched Trusses
The Bowstring Truss and Gambrel Truss allow the possibility of an arched roof while still benefiting from the aesthetic and strength of trusses. A vertical center beam provides the apex height in both of the designs with additional support beams to either side as they descend.
Single Slope
Truss designs for single sloped or flat roofs can be achieved in a few different ways. You could choose a structure of parallel beams joined and supported by a series of triangles, such as in the Flat Truss and Sloping Flat Truss designs. Other triangle based options include a right triangle that utilizes the descending side as the roof, as in the Monopitch Truss or an obtuse triangle like the Inverted Truss.
Extended Length Trusses
For those projects in which you need an extra-large open space, there are truss designs that can handle huge spans starting around 20 meters to those necessary for auditoriums and other huge buildings. North Light Roof Trusses will get you all the strength you need for those 20 – 30-meter projects, while those behemoth spaces can be accommodated by Quadrangle Roof Trusses.
There are many additional options in truss designs that you may find suitable to the space you envision in your custom home. Hopefully, this list has given you an idea of just how versatile trusses can be in a home and further inspire you to find just the right look and feel for you.
Sources: via, via, via, via, via