We know that you can plan an extraordinary master bedroom, an elegant living room, and a welcoming outdoor space, but for most people the soul of their home is in their kitchen. Of course, choosing beautiful appliances that fit your needs will be a big part of your finished custom kitchen, but there are plenty of other ways you can make a unique statement in your kitchen that fits your style. Below, we've outlined some of the latest, trending custom kitchen ideas and designs so that you can start picking out the
If you love to entertain you likely hate when you have to leave the fun of the moment to work on something in the kitchen. With an open kitchen design, you can put the last touches on your signature dish or pour a fresh round of drinks without missing out on any conversation. A bar or an island is a great way to maintain the definition of kitchen space from dining and entertaining spaces while allowing for an easy flow of conversation and adding bonus counter/storage space. Also, if you have young children you know how valuable it is to be able to work on dinner without having to leave the kitchen every time you hear a suspicious noise.
Everyone knows that cabinets can make or break the style and feel of a kitchen, but to really set your kitchen apart consider ditching the cabinets. Wrap-around shelving can bring a fun bohemian feel to your kitchen and allows you to show off all of the styles of your glassware and dish sets. Couple the open shelves with below counter cabinets to store appliances and other unsightly objects.
Counters, Backsplash, Flooring
There are nearly endless options to choose from when deciding on what types of counters, flooring, and backsplashes to put in your kitchen. Your personal style will be the biggest deciding factor in which color and textures will work best. Although nowhere else is it more important that style does not take priority over function than in the kitchen; it's important to choose durable surfaces that are easy to clean and won't easily stain. Luckily, there are so many options out there that you should have no issue in finding materials that are both reliable and great looking.
Lighting, Fixtures, and Hardware
Whether your style is elegant, bold, abstract or anything in between it's the little touches that will bring the look of your kitchen together. Introduce a touch of fun to a kitchen in which you chose an overall subdued design, or, in a kitchen of sleek design, round things out with your choices of lighting, fixtures, and hardware.
When it comes to lighting, you truly can't have too much. Natural light is a must, but having plenty of options for artificial light is going to be so important as you cook into the night. Consider hidden under cabinet lights to not only assist in prep but to bring a clean, dramatic accent to your kitchen.
Keeping things organized is important in a kitchen. What better way to have the room you need to keep your pantry organized than to create a dedicated walk-in space? No more digging through cabinets or dancing on tip-toes to find the one item you know you have, but isn't in immediate view.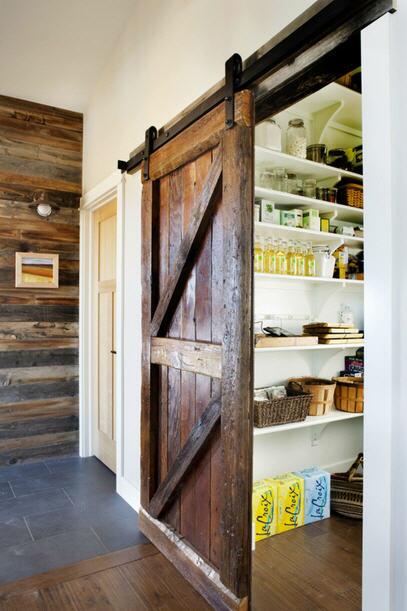 If you love wine and always keep a few bottles on hand why not graduate from your standard wine stand to built-in wine storage as you plan your home? Whether a custom built-in wine rack fits your needs or the control of a climate cabinet is in your plans, you can keep your favorite wine easily and stylishly within reach. Some really clever ideas:
Outside of the usual ample storage and counter space that is a must in any custom kitchen design, there are countless ways in which you can bring your own style and flair to your kitchen. These suggestions are just a few options available to you for making the center of your home as unique as you are. Make sure that when you are thinking about designing your own custom kitchen – whether during a remodel or a custom home build – you enlist the help of professionals to help you make the most of your layout.